"𝐊𝐆𝐄 𝐰𝐨𝐫𝐤𝐞𝐫𝐬 𝐚𝐭 𝐭𝐡𝐞𝐢𝐫 𝟏𝐬𝐭 𝐝𝐨𝐬𝐞 𝐨𝐟 𝐯𝐚𝐜𝐜𝐢𝐧𝐞"
In line with the free vaccination to employees of PEZA locators provided by Gov. Jonvic Remulla, last November 4, 2021, nineteen (19) unvaccinated employees of KGE received their 1st dose of vaccine (SINOVAC).
In KGE, we want to protect our workers because they are the ones who are at high risk of contracting the virus due to their nature of work.
Get a vaccine, comply with the government safety and health protocols and one day, everything will be back to normal.
#safeworkplace #vaccine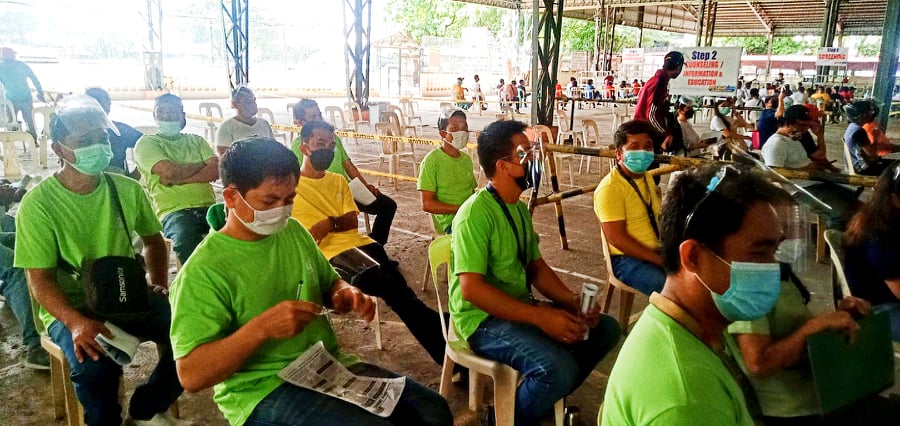 根据州长 Jonvic Remulla 为 PEZA 定位器的员工提供的免费疫苗接种,去年 11 月 4 日,KGE 的十九 (19) 名未接种疫苗的员工接受了第一剂疫苗 (SINOVAC)。
在 KGE,我们希望保护我们的工人,因为他们是由于工作性质而感染病毒的高风险人群。
接种疫苗,遵守政府的安全和健康规程,总有一天,一切都会恢复正常。
#安全工作空间 #疫苗
지난 2021년 11월 4일 Jonvic Remulla 주지사가 PEZA locator 직원을 대상으로 무료 예방접종을 실시함에 따라 예방접종을 받지 않은 KGE 직원 19명에게 1차 백신(SINOVAC)을 접종했습니다.
KGE에서는 근로자의 업무 특성상 바이러스에 감염될 위험이 높은 근로자이기 때문에 근로자를 보호하고자 합니다.
백신을 맞고 정부의 안전 및 보건 프로토콜을 준수하면 언젠가는 모든 것이 정상으로 돌아올 것입니다.
#안전한 작업 공간 #백신