Are you looking for good quality, long-lasting, and elegant-looking garden designs?  Well, let me introduce to you our products. These are the Canna Mini, Delivery Box, Stand Wash Lily, and Mail Box. It is all made of Fiberglass Reinforced Plastic (FRP), which makes them more unique and long-lasting.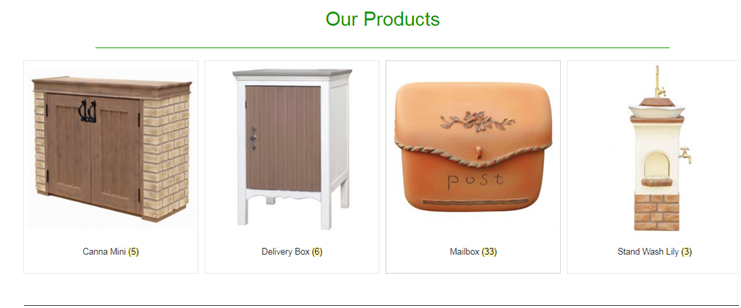 您是否正在寻找品质优良、经久耐用且外观优雅的花园设计? 好吧,让我向您介绍一下我们的产品。 这些是迷你美人蕉、送货箱、立洗百合和邮箱。 它全部由玻璃纤维增强塑料(FRP)制成,这使得它们更加独特和耐用。
좋은 품질, 오래 지속되고 우아하게 보이는 정원 디자인을 찾고 계십니까? 그럼 저희 제품을 소개해드리겠습니다. 칸나 미니, 딜리버리 박스, 스탠드 워시 릴리, 메일 박스입니다. 모두 유리 섬유 강화 플라스틱(FRP)으로 만들어져 더 독특하고 오래갑니다.