As we all knew that summer is the warmest season of the year. Here are some few tips what to do during summer season in order to bet the heat.
Wear loose clothing.
Wear sunglasses to protect your eyes from the harsh rays of the sun.
Protect your skin from the ultraviolet rays by putting on generous amounts of sunscreen.
Avoid excessive caffeine consumption.
Stay hydrated. Drink enough water. At least 8 to 10 glasses every day.
Eat fresh fruits and vegetables.
Get moving by doing some exercise such as walking, biking, swimming, gardening and etc.
Have plenty of rest.
Avoid getting sick.
Manage your health.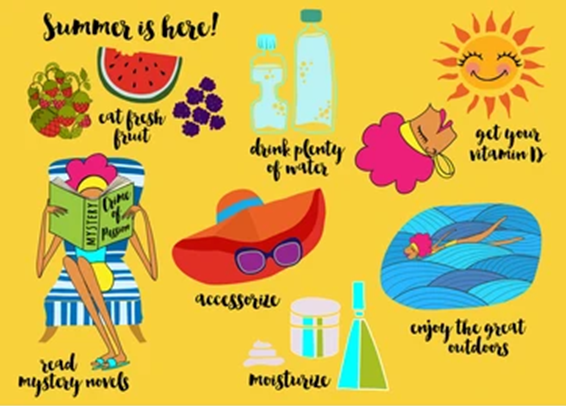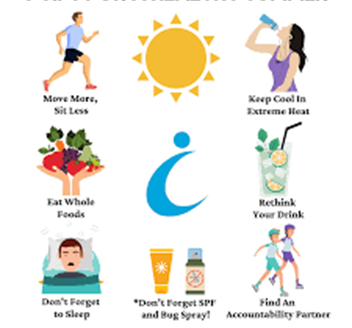 众所周知,夏季是一年中最温暖的季节。 这里有一些提示,在夏季可以做些什么来赌热。
1.) 穿宽松的衣服。
2.) 戴上太阳镜以保护您的眼睛免受强烈的阳光照射。
3.) 涂抹大量防晒霜,保护您的皮肤免受紫外线伤害。
4.) 避免过量摄入咖啡因。
5.) 保持水分。 喝足够的水。 每天至少喝 8 到 10 杯。
6.) 吃新鲜水果和蔬菜。
7.) 多做一些运动,例如步行、骑自行车、游泳、园艺等。
8.) 多休息。
9.) 避免生病。
10.) 管理你的健康。
우리 모두 여름이 일년 중 가장 따뜻한 계절이라는 것을 알고 있습니다. 다음은 더위를 내기 위해 여름 시즌에 해야 할 몇 가지 팁입니다.
1.) 느슨한 옷을 입으십시오.
2.) 강한 태양 광선으로부터 눈을 보호하기 위해 선글라스를 착용하십시오.
3.) 선크림을 듬뿍 발라 자외선으로부터 피부를 보호하세요.
4.) 과도한 카페인 섭취를 피하십시오.
5.) 수분을 유지하십시오. 물을 충분히 마신다. 매일 최소 8~10잔.
6.) 신선한 과일과 채소를 먹습니다.
7.) 걷기, 자전거 타기, 수영, 정원 가꾸기 등과 같은 운동을 하여 움직입니다.
8.) 충분한 휴식을 취하십시오.
9.) 병에 걸리지 않도록 하십시오.
10.) 건강을 관리하십시오.